Since founded in 1997, International Trade Line has expanded its business from the production and sale for laminate flooring to 8 different categories of building materials.
After more than decade's development, our professionalism and superior one-stop solution have been approved by large amount of customers. The total sales of us increase steadily every year. Learn more about International Trade Line .
Now, we are ready to share International Trade Line Integrate Solution Business Model to our distinguished customers.
real estate market is active
After the low ebb of global real estate in 2008 and 2009, the real estate in some countries stepped in a slow recovering. Especially after the first season of 2013, there is an obvious rebound in real estate with the increasing global real estate investment.
chinese building materials are popular in global
After 20 years' development, there is a diversification trend for exporting objects in Chinese building materials industry. The exporting proportion to the EU, Africa, Latin America, Russia, Middle Asia, West Asia, South Asia and other emerging economies have greatly increased
the refined decoration has been the main trend of real estate
At the same time, the urbanization is more and more obvious. The refined decoration in scale has been the main trend of real estate and the decoration market is occupied by refined decoration with high efficiency and low cost.
Your Market Opportunity:
1).The one-stop supply for decorative materials of different kinds of construction projects, such as apartments, residences, villas, office buildings, shopping malls, car showrooms, hotels, holiday villages, hospitals, schools and other municipal projects.
2).The distribution for building and decorative materials in scale.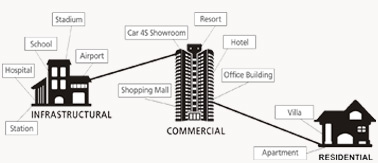 Whether you are distributors, importers, contractors, builders or developers, designers or engineers, if you could see the development prospect of International Trade Line integrated solution business model with your unique vision, you can be the big winner!
If you are a BUILDER or CONTRACTOR
Maybe you just provide products and service of a single category.
Joining in International Trade Line Buildmart, here is your business prospect, and how to start :
Providing one-stop solution for products and service to your home decoration customers, their logistic cost, time and labor cost can be saved. More categories of products also bring you more total sales.
---
1) Building a showroom and showing the main indoor building materials can increase the chance that customers choose the one-stop purchasing. The one-stop measurement and installation service also can bring you more advantages of one-stop solution.
2) Letting your salesmen collect all kinds of construction projects information in local place, setting advertising boards, sending marketing manuals and other popularizing methods, you can begin to attack the project market. Starting from the projects with middle or small size, in this way, a high success rate can be kept.
3) For leads of big projects from big players in real estate, you can provide them to us, then our professional team will provide you timely products program, along with your measurement, installation, native advantages and the good relationship between you and customers. All these can largely increase the success rate of cooperation.
4) Besides all of these, you can also make some inventories for some native popular or standard products. This way can not only shorten your purchasing time for some kinds of products (the others can be purchased alone), with the development of your marketing ability, you also can engage in distribution or wholesale of some categories such as door ,tile, stone, flooring, kitchen cabinet.
Finally, your business can be developed into a complete comprehensive one both as builder and retailer, distributor and become the leader of building materials industry.
If you are an IMPORTER or DISTRIBUTOR
If you are a DEVELOPER
1. Advantages of International Trade Line Integrated Solution Business Model
A single product business is with much risk, but series of products business can burden the risk Market is changing every day, sales of single-product is very sensitive to changes of market condition. But we can avoid the risk and maintain sales steady growth even during the economic recession because of our varies of products selling. Product advantages
2. Cooperation Advantages
3. Strong Support From International Trade Line
aving time and cost, better than setting overseas offices in China The one-stop project solution in International Trade Line saves lots of time and cost for customers, even better than their overseas offices in China. Some of our customers have finally canceled their overseas offices in China, as they already enjoyed benefits of one stop purchase from International Trade Line group. Advantages of one-stop project solution
Value-added project services for projects In addition to product supply, we also provide services like professional measurement, product design, material selection and installation guidance. Because of those professional and additional engineering services which ensure the products installation, more and more customers are willing to cooperate with us instead of choosing those with product supply only . Service advantages
1. Target Franchisee
A. The franchisee should own the building materials stores or showrooms with International Trade Line 's logo, and show all kinds of products.
B. The franchisee can choose some kinds of products for inventories.
C. The franchisee should own a mature and complete marketing team.
2. Franchising Requirements
A. The franchisee should accept and carry out the one-stop managing idea and model of International Trade Line
B. The franchisee should report the local project leads in process and the products demand trend and market information in close contact.
C. International Trade Line is the only chinese supplier of franchisee s for all the products we can provide.
D. The franchisee should promote International Trade Line 's products and service actively on local, and lead the demand of local market.
3. Franchising Process